Getting into spring do you get that lack-lustre, pale-legged feeling on the beauty front? The one where you been all wrapped up and haven't seen the sun for weeks? Not that we're advocating basking in it, but a taste of it is always sooo good and adds a bit of golden glow.
When that's a little elusive though, a simple trick is to create that sun-kissed glow with bronzer. It's a girl's best friend. Here's how to use it beautifully:
Choose a shade that's only a little darker than your natural skin tone. You want to keep it natural right?
There's a place for everything and shimmery bronzer is beautiful in the evening and as a highlighter. Only a touch though, leave the heavy-handed shimmer to those in their twenties. For every day wear it's much, much safer to choose a matte formulation.
The best way to apply bronzer is with a large, fluffy brush. There are some gorgeous ones around. Swirl it 'round your compact or powder, shake off any excess and brush it on lightly and evenly using 'swirl' motions. Don't you love that 'swirling' word? 😀
I love the rule of thumb of applying bronzer where the sun would kiss you. Places like the cheeks, forehead, nose and décolletage. I like to use it all over to warm up the skin. The secret is using a light touch.
TRIED & TESTED
NO MESS, NO WASTE, JUST A GLOW
Elizabeth Arden Pure Finish Mineral Bronzing Powder, $49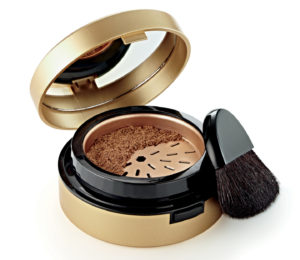 I've been a huge fan of this ever since it came out a few years ago. It's a beautiful product and a dream to use. Based on mica, the key ingredient in most mineral formulations, which is a naturally occurring group of minerals that are mined from the earth, the powder is fresh ground every time. With seawater complex, aloe and vitamins A, C and E, it's free of oil; fragrance and talc so it's pretty skin loving. The twist type 'grater' facility of the pot shaves off as much bronzer as you need so there's no mess and it even comes with its own little brush. I'm not saying it's 100 per cent natural but it contains some pretty good stuff and leaves out some of the not-so-good. Click here to buy.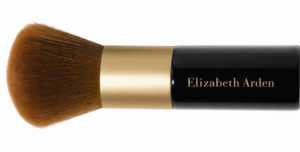 I've also been using this Pure Mineral Face Powder Brush from Elizabeth Arden, $47, for about five years and it's still going strong. Just saying 😀Click here to buy.
SHE'S GOTTA HAVE IT
Jane Iredale So-Bronze Bronzing Powder, $77. Refill,$20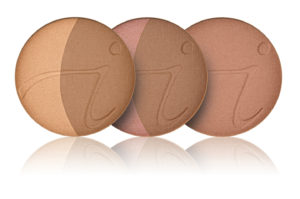 This is one brand that is perhaps most closely aligned with my ethos and one of the pioneers in the free-of-nasty-ingredients game. Practically every product that comes out of Jane's idea camp is a winner and this bronzer is no different. The two-tone palette provides a beautiful natural look which you can use separately or together – I swirl my brush over both colours. The refillable compact is a beautiful rose gold and sold separately from the refills. Containing boron nitride, pine bark and pomegranate extracts it comes in a bronze with pink undertones, a terracotta/gold with yellow undertones and a bronze designed for all skin tones.
Click here for authorised stockists.
A SOLUTION FOR PALE GALS
The Body Shop Honey Bronze Bronzing Powder, $34.95
We're big fans of The Body Shop's use of Community Fair Trade ingredients and this bronzing compact, designed to look like honeycomb (nice touch!), uses honey from Ethiopia and beeswax from Cameroon. The honey makes the formula moisturising and, because it comes in Light Matte, Fair Matte and Medium Matte hues, even the palest skin tones can use it without looking overdone. The company does a gorgeous kabuki bronzing brush that's well worth checking out too.
You can buy it here.
So go and get your glow on loves. Any questions just reach out here.
#youglowgirl
Thank you to the incredible free resource of Unsplash and it's talented photographers. You make our job much easier 😀